With the NFL Draft less than a week away, it's time to look at who's high and who's low on the Ravens' wishlist this year. If you think the primary focus will be improving what some fans considered an atrocious performance by the defensive secondary this year, you might be in for a surprise. Lucky for you, Ed Healy is here to provide some insight.
Who's Ed Healy, you ask? Good question. He's a man of many talents, but among his greatest passions is NFL player evaluation. Ed doesn't work for ESPN and he doesn't run his own draft website, but he does have a few things to his name that give some weight to his opinions. In addition to having personal interaction with Mel Kiper Jr. and watching hours of Ravens game footage from last season, Ed has become a quick study in breaking down film - his written evaluation of the Ravens' play in the 2008 season drew praise from a handful of NFL general managers and player personnel directors, and he was subsequently asked to submit further scouting reports on a selection of personally scouted 2010 NFL prospects for an AFC team in preparation for this week's events. An amateur he may be, but Ed is serious about his football. Without further ado, here is his take on the Ravens' needs in this year's draft, provided exclusively to Springs on Sports.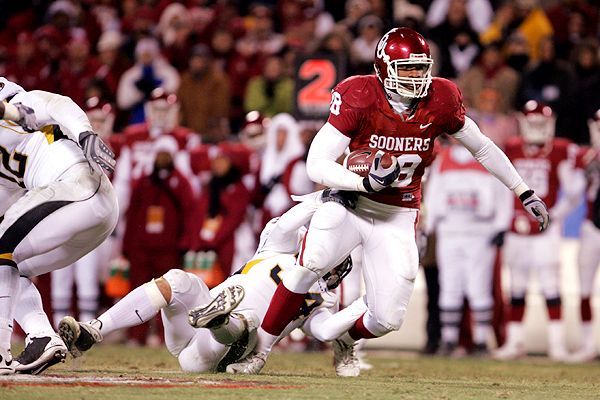 The Ravens really have few holes heading into the 2010 draft, with essentially every starting position filled. What this team needs is to add depth and youth to prepare this roster for the exits of Todd Heap, Kelly Gregg, Derrick Mason, Trevor Pryce and other key veterans that are likely within the next two seasons. The Ravens are a bona fide Super Bowl contender the way the roster is right now, but they are just a few key injuries away from being 9-7 just like last year. With that said, let's take a look at some crucial positions heading into this year's draft.
WR
- With the additions of Anquan Boldin and Donte' Stallworth and the return of Derrick Mason, most people have written off the wide receiver position as an area of need. But when you consider that Stallworth is on a one year deal, Mark Clayton will be a free agent after next year, and Mason could easily retire after this coming season, the Ravens could be left with Anquan Boldin and Marcus Smith for Week 1 of the 2011 season. This scenario is quite possible and would just leave us looking for wide receiver help again next offseason. As much as this annual search for a WR has been fun for us Ravens fans, at some point we're going to have to have an offseason where the wideout position is of no concern. Dez Bryant may be available at #25 with some teams concerned about his character, but the WR the Ravens should target at #25 (if that's the direction they want to go) should be Demaryius Thomas of Georgia Tech. At 6-3 230 pounds, he averaged over 25 yards per catch this year. (Note: Jermaine Lewis' highest average in Baltimore was 19.1 yards per catch, and he was only 5-7.) Another name to keep an eye out for in later rounds is Mike Williams of Syracuse. He's 6-2 221lbs. and is a legitimate downfield threat. He could slide far in this draft due to character concerns, but if he falls near the 4th round the Ravens should definitely snatch him up.

TE
- Todd Heap is coming back this year, but is obviously getting up there in age. The Ravens should be in the market for an heir apparent, just as when Heap was brought in for a year under Shannon Sharpe. The man for that job is Jermaine Gresham (pictured above) and Jermaine Gresham only. After watching many Oklahoma games during his junior year, I was convinced Gresham would be an absolute stud at the NFL. He is an amazing pass catcher who will be an elite NFL tight end. He won't go in the top ten but in ten years from now people will wish they had taken him. If the Ravens are unable to grab him, they should wait 'til next year for Heap's replacement. We really need a backup tight end who is a mauler of a blocker, but that can come from the veteran free agency pool. Edgar Jones is a nice developmental project and special teams player as the third tight end. The only way the Ravens should improve this position through the draft is Jermaine Gresham.

CB
- This group put up an atrocious first half of 2009, but they truly came on strong in the second half. The concern here is that Fabian Washington and Lardarius Webb are still rehabbing from injuries that may keep them out until late in training camp. Chris Carr stepped in late last season and performed way better than anyone could have imagined opposite Dominique Foxworth. If all were healthy, a lineup of Foxworth and Webb starting with Washington as the nickel and Carr as the fourth corner would definitely be a quality stable of corners. What may actually dictate how we handle our corner position is the 2010 schedule release before the Draft. If the Ravens face the Steelers, Patriots, and Saints early on, they may need to look for a corner. If those games are towards the back end of the schedule, the Ravens may not need to address the position. But if they do, a big and physical Chris McAlister-esque corner is needed. Players like Patrick Robinson of Florida State or Rutgers' Devin McCourty fit that description as early round candidates. Chris Cook, Myron Lewis, and Nolan Carroll fit as late round candidates. One interesting middle round prospect is Javier Arenas of Alabama. He's not the size the Ravens should desire in a corner this year but he's physical and an absolute playmaker. He'll probably go in the third round but he could be a gem. If you're hoping Kyle Wilson of Boise State will be available, keep dreaming.
DT
- The current group consists of Haloti Ngata, Kelly Gregg, and Brandon McKinney. Gregg is getting older so a young big body could be used in the middle to help a group hurt by the loss of Justin Bannan. An obvious direction to go in during the draft would be Terrence Cody of Alabama. He would be the perfect run-stopping defensive lineman to pair with Ngata to protect Ray Lewis. Taking him at #25 may be a small reach, but I don't think he'll be around at 57 and I don't see the Ravens using picks to move up to get him when they only have 5 to start. A more reasonable outlook could be to draft a defensive tackle in the later rounds or trust Ozzie to find another solid undrafted lineman like he has done in the past (Lional Dalton, Maake Kemoeatu etc.). Big bodies to look out for in the later rounds are Torrell Troup and Kade Weston.
DE
- Currently, the Ravens only have Trevor Pryce and Corey Redding as true defensive ends for their 3-4 scheme. The addition of Redding has not excited many Ravens fans, but in the last 5 seasons, Redding has recorded at least one sack and over 40 tackles. These numbers aren't amazing but the Ravens don't need him to be amazing - that's what Terrell Suggs is for. If Redding can just control his gap assignments and create the occasional rush, he'll be a serviceable player in the system. The other hope at DE is that Paul Kruger adds weight so that he can be a full time defensive end. With these three, the need to draft a 3-4 defensive high in the draft like Jared Odrick would be low. The Ravens should look to draft a big defensive end late to groom as a replacement for Trevor Pryce. A highly talented player who could drop to #57 is Carlos Dunlap of Florida, but options in the later rounds like Alex Carrington, C.J Wilson, and Greg Hardy are more likely.
FB
- The Raven's biggest mistake for the 2009 opening day roster…keeping RB Matt Lawrence. The Ravens should have kept a reserve fullback who could play special teams instead of a reserve running back. This negated any possibility of bringing in Le'Ron McClain in short yardage situations with a blocker in front of him and took away a dimension of our offense that worked well with Lorenzo Neal in 2008. It would make sense for the Ravens to try and find a fullback late in the draft or undrafted who could bulldoze running lanes for McClain in goal-line situations. Cory Jackson of Maryland may just fit the bill.
S
- I don't view this as an area of need. Even if Ed Reed retires, Tom Zbikowski, his replacement, did a great job filling in last year. Dawan Landry and Haruki Nakamura both are quality players at the strong safety position, making the Ravens three deep at safety without Reed. The Ravens have had no indication from Reed that he will retire and there's no way they keep a 5th safety with the way they like to carry lots of multifaceted linebackers.
Here's how I see the draft hopefully unfolding-
1(25). TE Jermaine Gresham (Oklahoma)
2(57). DT Terrence Cody (Alabama)
5 (156). CB Nolan Carroll (Maryland)
5 (157). DE Brandon Lang (Troy)
6 (194). WR David Gettis (Baylor)
Although I feel good about these projections, I'm no expert, so I'll end with this…
In Ozzie We Trust!
Ed Healy is a college student and avid fan of the Baltimore Ravens and Baltimore Orioles. In his spare time, when not following one of his two favorite teams, Ed enjoys playing pickup hoops, schooling his friends in a number of PS2 sports games and coaching youth lacrosse and soccer. He lives and attends school in Baltimore, Maryland.